What to Wear to a Bachelorette Party
Are you going to have a bachelorette party but don't know what you should wear or how should you accessorize for this night of fun?
If you're like most women out there I'm sure you would like to wear something your friends will envy, something sexy...but not over the top.
Don't worry you have a number of options. Dark jeans and a (velvet, silk, lace, satin, sequin or metallic) top and peep-toe heels or a spicy top with chunky heels. Rhinestones or a sparkly detail around the neckline or even a necklace would be a nice touch.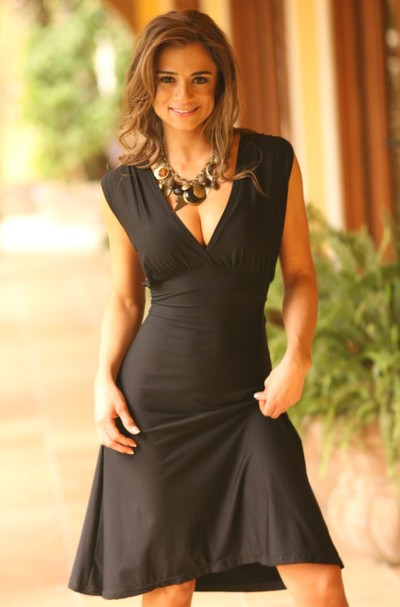 A black cocktail dress (form fitted if you have the figure for it.) Add a brightly colored belt for a bang if you're tall. Women's Black T-Dress or a short strapped red dress with skinny jeans underneath.
"Skinny dark demin jeans, with a black 3/4 sleeve half cardigan, with a bright blue tube top."
"cute shorts or jean skirt like cuteones not just plain jeans like dark wash n a cute tube top or halter that is like loose or hanging u know with cute shoes..flats or heels"
"slinky dress and some heels"
Whatever you decide to wear be sure it complements your figure type.
What to wear if you're the bride:
As the bride you should look your best and go for a look that is attention grabbing. Wearing sequins or something that shimmers will surely spark things up. If sequins are not your style you can wear a dress with a fun pattern or a sexy dress with lace.
What to wear if you're a part of the bridal party:
A festive look will work for this occasion, a solid color party dress with metallic sheen comes to mind. Another option could be a mini skirt and a cute top. The goal is to be sexy without being over the top, allowing the bride to be the center of attention for the night.
Deciding on what to wear together:
Coordinating outfits is also a fun option that many end up going with as it makes for an entertaining and exciting night. Some would say one of the best parts of the bachelorette party is getting dolled up. Imagine walking into the room with all of your besties wearing a little black dress, the attention yours all night long.
Pictures of what women have worn to a bachelorette party
Be the first to comment