What to Wear to a Comedy Club
Going to see your favorite comedians? Knowing what to wear can save you embarrassment. Comedy Clubs: Is there a dress code?

It's pretty much acceptable to wear casual street clothing if you plan on going to a comedy show, it's generally a laid-back event most of the time. This doesn't mean you shouldn't make an attempt to at least be presentable if you're going to a comedy club.
The last thing you want to do is dress sloppy and end up with front of seats, doing so will make you or your date a part of the entertainment for the evening. Unless you have thick skin and don't mind. Dressing in any attire that overly attracts attention or screams "look at me" will also have the same effect. Do NOT dress sloppy!
"Sophisticated street clothing is a good way to describe the overall vibe of the clothing choices that are often chosen for these events. A pair of well-fitting, dark wash jeans is a good choice for both men and women."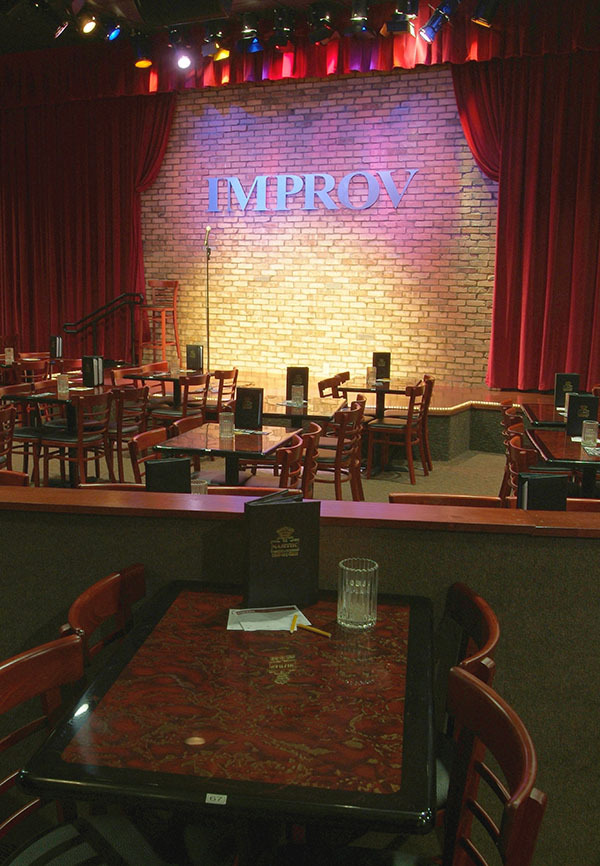 What to Wear
Nice, casual attire.Clothes that are well fitting and in good condition.
A printed t-shirt, bowling shirt, polo/golf shirt, or best of all, a button down shirt.
A nice pair of jeans, or better yet, khakis or dress pants.
A jacket classes up any outfit.
Try to be consistent with the people you are with. If your woman is in a knock-out cocktail dress, wear a suit. If your buddies are wearing bowling shirts, do not show up in a tie. A full suit is the gold standard.
What NOT to Wear
Baggy, ill-fitting clothes.
Dirty, wrinkled, or ripped clothing.
Gym clothes/Athletic wear.
Anything with a camouflage pattern.
No offensive clothing or sunglasses worn inside the club
Tuxedos - there is such a thing as overkill.
Here are a few responses to the question: What is the dress code?
"We have patrons who come dressed in formal, business, and casual. As long as you come to our theater clothed, you're all right."
"We do not enforce a dress code. As long as you are, in fact, wearing clothes and shoes, we encourage you to wear whatever makes you comfortable!"
"There's no dress code expressed by staff, other than "you need to wear clothes." However, most of our clientele generally dress business casual. Feel free to dress up or dress down, just make sure you come down and enjoy a show."
Like most evening establishments this rule applies
Neat casual attire, no effort, no entry and management reserves the right to refuse entry at all times.
Here are a few must visit comedy clubs
Chicago, IL
Second City - The Second City specializes in sketch comedy and improv and has been delighting audiences for over 50 years.
iO Theater - There are shows at iO seven nights a week, so you don't need to go anywhere else to be entertained.
Los Angeles, CA
The Improv - The best live, stand-up comedy in Los Angeles. See tomorrow's stars today where comedy begins - The Improv.
Long Beach, CA
Laugh Factory Comedy Club - The Laugh Factory is a comedy club with locations on the Sunset Strip in Hollywood, Long Beach, California, Chicago, and inside the Tropicana Las Vegas.
New York, NY
Carolines on Broadway - Carolines on Broadway located in the heart of Times Square, offering nightly shows of NYC's best well-known and up-and-coming comedians since 1982.
Comedy Cellar - Discover underground talent, literally, at this veteran comedy club.
Las Vegas, NV
Ballys LA Comedy Club - The Ballys LA Comedy Club at is one of the best and most affordable comedy clubs in Las Vegas
Atlanta, GA
Laughing Skull Lounge - The Laughing Skull Lounge is Atlanta's only full-time progressive comedy club
Be the first to comment