What to Wear to Prom
Prom is the first of many dressy events for a a girl, where she will be fretting for weeks over, get some real inspiration about what to wear to prom.
Don't stress over finding the perfect look for prom. Try to start early. This will give time to make a plan. Follow these simple tips to look your best on your special night.
Highlight your best points
Look for the parts of your body that favor you when looking for a dress and find styles that bring those best features out. A few suggestions and tips:
For an hourglass shape, a fitted dress would bring out the best of your looks.
If you wanna hide what you've got in the backside, a ball gown skirt or dress will help camouflage that.
Wanna turn heads and show off the legs? Try a cocktail dress or something about knee-length to give a sexy, sophisticated look
If you are a little self-conscious about your arms, a wrap always makes you feel more elegant! If you don't want to carry it around, try a capped-sleeve dress.
Color is important, so choose wisely to what brings out your best features. Only a few colors, like black, work for all skin tones, but if you're going for color, make sure you choose the right shade. When buying a dress, make sure you pay a lot of attention to the shades of your dress: pale pinks and peaches may wash out ivory skin, but deeper pinks or apricot can be the perfect hue for light complexions.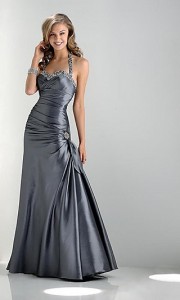 Less is more
Always remember that you can look fab without revealing much or going head-to-toe sequins.
A few glamor tips:
I know standing out and letting everyone know you have arrived is important, but sequins and embroidery are only good attention to a certain degree. If you're loving a decorative dress, a simple clutch and heels is the way to go.
A little cleavage on a dress is okay, but just remember you are at a prom, in High School! Don't over do it.
If you want to show off the midriff, make sure the skirt is on the conservative side.If you wearing a high-slit skirt, think modest top-wise.
If your dress is very exaggerated, very sheer makeup is needed. Too much is just, well, too much! Accessories are always needed, but just the same as makeup. Not too much.
Last but certainly not least, don't forget to be yourself.
Just because the prom calls for a formal look doesn't mean you have to change your signature look. It's your prom, and like everyone else, you want to look good. Part of appearing gorgeous is wearing the right clothes. Feel more confident with the following advice on what your dress should be like.
For the Ladies
The first rule for any tip on how to dress is to know your body --- the parts that should be displayed, and the areas to be covered up.
If you have blotchy skin or an unpleasant complexion, try not to draw more attention by choosing a pastel color.
On the other hand, if you have gorgeous long legs, don't hesitate to wear a cocktail dress.
Full skirts are okay if you want to hide your booty
Get showy with your lean arms by wearing a spaghetti-strapped dress
Hide your stick figure with a bare midriff
Show off your slender neck and perfect shoulders with a strapless
The second step is to choose a design that fits with your personality and what you normally like.
If you're a conservative person, don't force your wilder side to come out with a body-baring ensemble. Likewise, don't try to pull off a demure facade if you're a no-holds-barred type of gal. Your clothing's more authentic and beautiful if you go as yourself.
The third step is to watch out for both over-the-top details and understatement.
You can't just go to the prom in a plain, mono-colored frock. It would be taking the spirit out of promenade, which is essentially about feeling like a princess for a day. Likewise, hiding your body in metallic trimmings and sequins makes you look like a prince on a transvestite holiday.
Keep it simple, but not too simple. A little detail here or there isn't so bad. For example, if you love the dramatic, try on a ball gown with an intricately pleated skirt and some detail for the top, but avoid ruffles or lace.
For the Gents
As long as you work out, you'll look good in everything you try on, provided that it's not too flamboyant or too plain.
Boys like you generally aren't as fussy as the ladies, so come to the prom in your best tailored suit. Just avoid velvet textures and rayon fabrics. If you don't understand these terms, just consult your mother or sister on what to wear.
You don't have to be restricted to a coat and tie, though. You can accompany your prom date in a tuxedo, a black tailcoat with shirt, or even a collar shirt in Nouveau jacket. Again, ask your female relatives for help if you don't want to dress yourself.
Pictures of prom dresses
Be the first to comment