What to Wear with a White Skirt
Ideas on what you can wear with a white skirt
Wearing a neutral color like white makes picking out something that goes with it an easy task.
Okay, first things first. Clothes should not match. Matching is when you don't know what goes with what so you just put the same colors together. It's not good. You want to find what GOES together.
With that said, neutral colors are colors that GO WITH anything. White, black, navy, grey, brown, beige, etc. They are all neutral colors. You can wear then with any color. I wouldn't recommend all one neutral though. Like, not an all white outfit.
So your skirt is white and lacy. That is very feminine. It's good to mix feminine with something more on the tomboyish side. Something tough with something fancy. For accessories, I'd go with a gold bracelet because it's always classy. Maybe a gold necklace too. It depends on what you are wearing on top and your shoes. Gold and white is pretty though.
A floral top would fit good with the skirt, You could find one at Forever 21 or H&M. I think a peachy pink would be a nice color to go with a white skirt. For a white skirt, choose tops in another color for maximum contrast. They can be solid-colored, but patterned shirts (in styles like paisley) work well, too. To keep your look earthy, choose shirts in colors such as taupe, khaki, olive green and brown.
Avoid tunics or shirts with wide, dolman-type sleeves; paired with such a flared skirt, you'll appear swallowed up by your clothes.
Pictures of outfits with a white skirt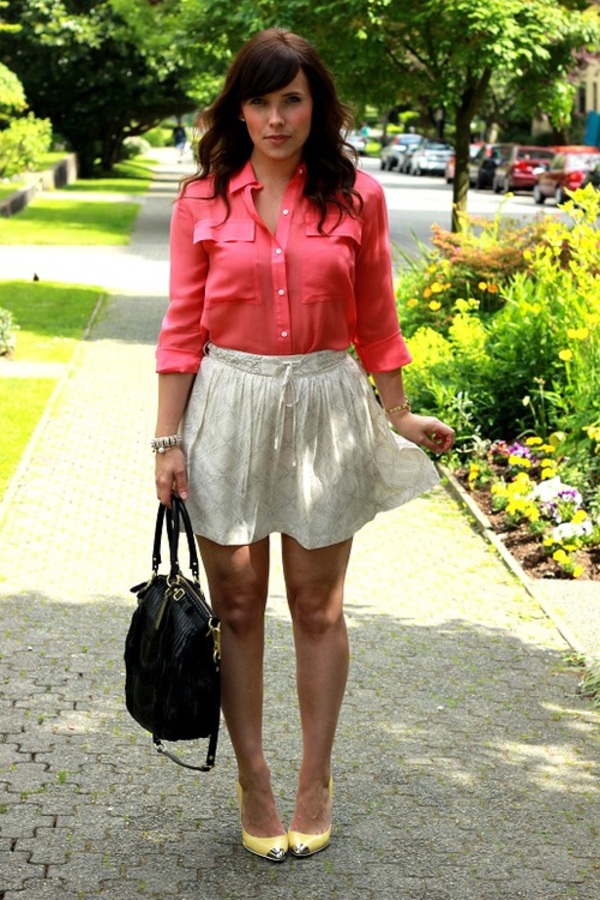 Be the first to comment