What Should I Wear in L.A?
Be
Many people love to visit Los Angeles. It is a place for many to fulfill their dreams of acting, singing, and just about any other thing related to the entertainment industry. When people visit L.A, they love seeing all the fancy cars, houses, and high-end boutiques and other shops that line some of Los Angeles's famous streets. It is easy to get caught up in L.A's carefree lifestyle because of how casual and fancy both mi together. For example, it is not uncommon to see a high roller get out of their Rolls Royce in simple jeans and a t-shirt and walk into a high-end celebrity hotspot. With that being said, it might be a little hard to figure out then what it is you should wear when traveling to Los Angeles.
The first thing to take note of is that L.A. is divided into several different areas. Each area has a different style and culture, so it's important to pay attention to what part of the city you will be visiting. Since L.A is all about originality, you can get away with quite a lot however, there are some details you may wish to take note of.
No matter what part of the city you are in, make sure you call the establishment, so you know what it is you have to wear, saving the embarrassment of being kicked out or not allowed in. Let's take a look at some of the more popular destinations in Los Angeles.
The beaches-Malibu, Santa Monica, Venice
Most people who are rich tend to live here on the beaches. They have nice houses, nice cars, and make quite a lot of money from their careers. The majority of people who live here are not southern California natives, and also tend to totally embrace the casual lifestyle this city has to offer. You will definitely see surfers going for a nice surf early in the morning before hopping into their BMW or other high-end car and heading to work.
Don't be afraid to experiment here by wearing some surfer shorts or even a business suit as if you're on the way to work yourself. The one thing that is essential however is sandals. While the ocean draws both locals and tourists alike, the beaches themselves certainly have a lot to offer.
On Venice, at the boardwalk you can buy just about anything from t-shirts, to paintings and one-of-a-kind treasures. A walk along Abbott Kinney and Restaurant Row will have you eating all sorts of delicious food. You're bound to find something there you like, no matter how picky you are. As for Santa Monica, this beach is one of the most laid-back and clean places you will see. Everyone here is so laid-back and often has sand in their briefcases. You'll find lots of shopping, restaurants, and enough ocean to satisfy just about anyone. Taking a trip down Malibu might be a little overwhelming, simply because it is home to many celebrities who want to stay away from the busy lifestyle of the city.
With places like Beverly Hills where it is close enough to the city to not feel secluded or out-of-the-loop but far enough that the paparazzi isn't swarming in trying to get a peak of their relaxed luxurious lifestyle, Malibu is the heart of luxurious living with a relaxed feel.
Beachwood Canyon/Los Feliz/Silverlake
This area of Los Angeles has some of the oldest neighborhoods of the city, and is mainly comprised of creative people. It is common for rising directors, artists, musicians, and other creative talents to live here. There are lots of stores and locally owned restaurants in this part of L.A, and many locals say that in this part of the city you will find the hidden hot spots of Los Angeles. If you love discovering new music or art, or maybe are a creative and eclectic person yourself, then this is the place for you. Style here is very unique and personal. People are free to express themselves a lot more, since being able to show their personal creativity is just as key to the people here as their creative work.
Hancock Park/Larchmont Village
Many celebrities and stars used to live here in Larchmont Village. It's a hidden treasure that was once discovered, and despite it being in the middle of one of the biggest cities in the world, it feels like a small town. If you're looking for an area of the city that is home to lots of tasty restaurants and locally owned boutiques but isn't filled with the hustle and bustle lifestyle as places like Hollywood, then you might like exploring around here. Despite it being rather upscale, the dress is usually very casual. Wearing a simple jeans and t-shirt combo with a pair of flats to compliment and a jacket if needed will do the trick, no matter what time of the day.
Hollywood
Hollywood is one of the biggest tourist destinations in Los Angeles. With many stores along Hollywood Blvd, you will spend a lot of time shopping. The Kodak Theater is also located here, which is home to the Oscars. If you really wish to experience Hollywood however, it's best to do it at night. The Hollywood nightlife is full of trendy nightclubs and A-list celebrities looking to party. Be prepared to dress to impress, but also don't be surprised if you can't get in. While Hollywood is not about labels, it is about style and how you put together your outfit. Accessories are going to be just as important as well as the outfit. For women, high waist miniskirts, colorful tops, skinny jeans, hats, 3 to 4 inch heels and really sexy dresses will gain you access into much of the Hollywood nightlife. For men, go ahead and wear jeans however, be sure to pair them with a stylish button-up or t-shirt and an equally stylish blazer or cardigan to boot. Trying wearing a pair of converse or sleek leather boots for shoes, and try wearing some accessories as well.
West Hollywood/Sunset Plaza
If you're looking for probably the most popular place to shop in L.A, you've found it here in West Hollywood. West Hollywood is the bridge between Hollywood and Beverly Hills, and there is a lot of dining, shopping, and nightlife to experience. Sunset Plaza is another popular destination that has a bit of a European feel to it. You will find lots of people sitting on the patios of restaurants having a glass of wine and just enjoying the sun. There are also a lot of popular shopping destinations here, and if you are looking for less touristy areas where more locals hang out, try shopping on streets like Beverly Blvd, 3rd street, and Melrose. The east end of Melrose has more budget friendly shops while the west end is home to more upscale ones. West Hollywood is casual dress during the day, but slightly more dressed up at night.
Beverly Hills
Though Beverly Hills doesn't have much of a nightlife, there are lots of high-end stores to shop at. Even if you don't have the pocketbook that a celebrity might have, this is one of the few times it is just as fun to window shop. You can see many different stores here that are well known. Beverly Hills has a casual dress during the day, but during the night you want to turn it up a few notches. Don't overdo it on both outfits, but during the night especially, it is your time to show off. Those nice high heels you have, or that dress that just hasn't gotten the occasion to be worn could probably make their appearance during a night at Beverly Hills. Still, be comfortable yet stylish. Be yourself, yet know what's trendy and what isn't. Keep this in mind and you will fit right in at Beverly Hills.
View pictures of what people are wearing in California http://www.messycloset.com/what-people-are-wearing/usa/ca/los-angeles/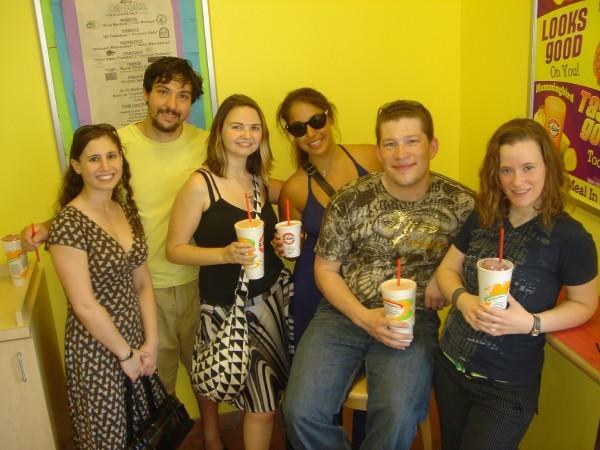 Be the first to comment